Debate Classes
Whether you are looking for an introductory class or something more advanced we cater to all levels of debate students.
Weekly debate sessions. Discover, develop & practice.
Debate HK's weekly classes are goal oriented, content heavy and very focused on the individual student. They include detailed reports on the student's development, video assessed debates and an open line of communication at all times between parent and instructor. Many debating legends of the competitive circuit started here as well as many students who just needed a little support in finding their voice. We are equally proud of both.
Our debating sessions are about three things; growth, fun and curiosity. We aim at building up young debaters by assessing carefully their strengths and weaknesses and making sure that lessons are targeted towards them.
Over the course of the year lessons seek to achieve three crucial things.
Firstly, to cover and develop an understanding of key areas of argument. Whether it's medical ethics, legal philosophy, economic and political theory or more accessible topics like school bullying, pop culture and sport there are always underlying worldviews which don't agree. Rather than shy away from them, we go looking for these disagreements.
Secondly, to teach the strategic side of debate. Ever heard of books which have titles like "hundred and one ways to win an argument"? We don't want our students to read such books. After studying with us for a while we want them to be able to write such books. There are no easy shortcuts to winning a debate. The skill is cultivated, nurtured and experimented with. Side effects include fun, becoming more outspoken and the growing of logical and critical skills.
Thirdly, personal development. Most debate students experience the same simple problems when they first begin debating. Weekly classes solve these very quickly. The most valuable thing we give students is a chance to grow, develop and become more aware of their individual issues. Whether it is building up the confidence to give an eight-minute speech or learning the patience to slow down and prioritise rebuttal there are always mountaintops which seem unreachable. Practicing debate weekly is by far the best way to begin that climb and often the view from the top is amazing.
Who are our Debate Classes for?
Motivated students who are happy working in a group and individually. Curiosity about the world and an interest in current events are considered a big plus.
Beginner

Students who are young or completely new to debate. Common starting age is 10 to 12 years, but a beginner is a beginner! Course content will focus on simple issues initially such as school and pop culture, but can then move into any areas that the students show interest in. The classes are designed to be a supportive environments which opens the door to the world of debate.

Intermediate

Aimed at students who have some debate experience and are comfortable with basics. Whether you have done our beginner course or not, if you know how debate works and how to give a speech you're ready for this. Students are commonly 12 to 14 but anyone of the right level is welcome. Classes are aimed at pushing students to a level where they would be able to enter a competitive event. The course focuses on skills like case building and sets high standards for individuals to reach. Course content will focus on more complex issues such as political theory, legal philosophy and social issues. If you like debating and you want to see how deep the rabbit hole goes this is definitely the class for you.

Advanced

For the truly seasoned veteran! These classes are aimed at students who are looking to push themselves towards the top level in Hong Kong and beyond! Usually classes are for students who are 14 to 16 years old, but this class has been taught to students of all ages including adults. These classes are taught along very similar lines to how national and school teams are coached. Emphasis is placed on taking argumentation to the next level and focusing on how to achieve top scores and win rounds, rather than just avoiding making mistakes. Course content focuses on very taxing issues such as international relations, economic theory and philosophy. If debating is not just something you do, but something you are, then you are very welcome here.
Class Details
Frequency:
1 lesson per week
Duration:
2 hours
(1 ½ hours recommended for some beginner classes)
Group size:
8-9 students.
Age:
11+
Schedule:
September to June.
Instructor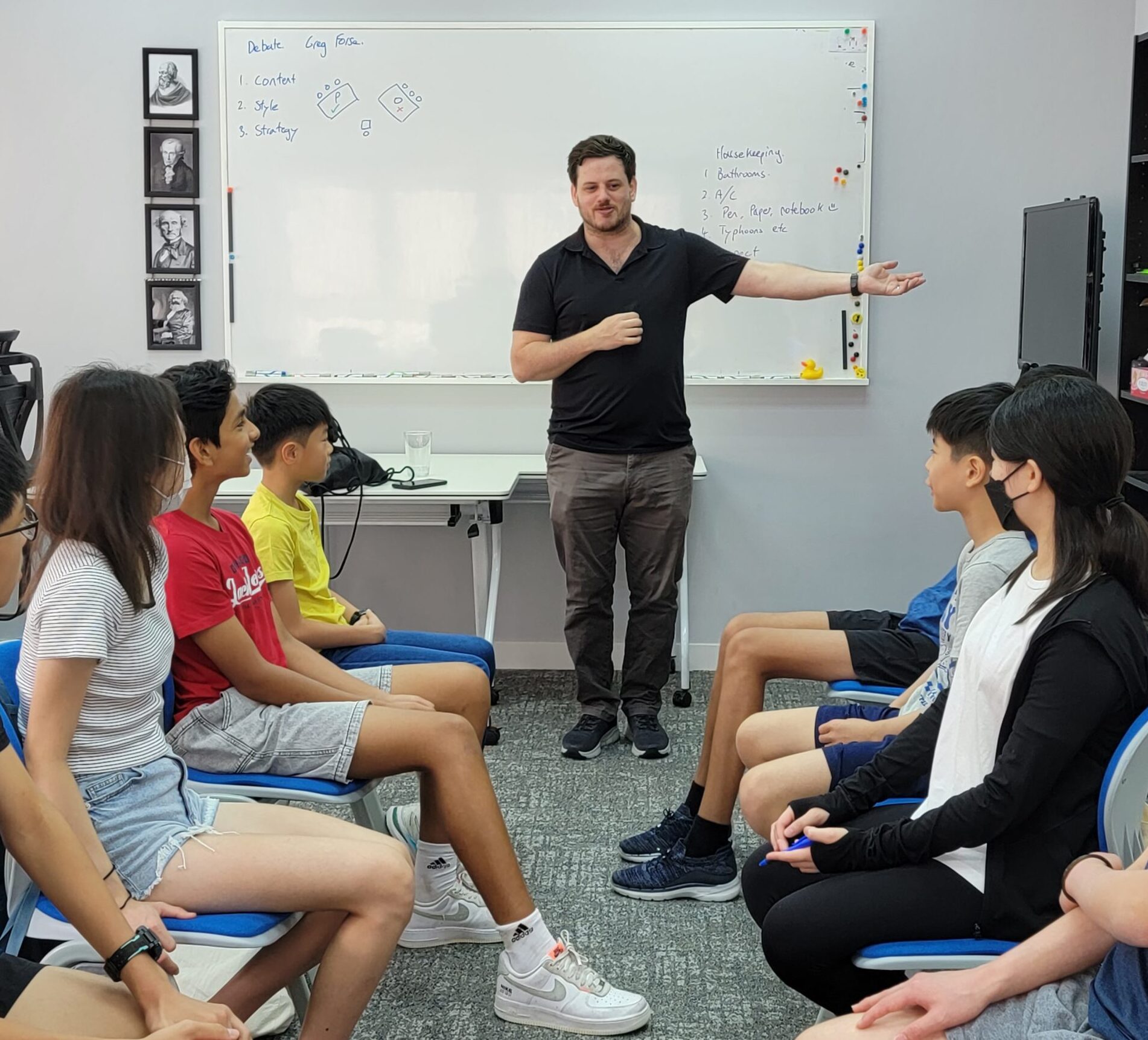 Greg Forse
Greg Forse
Greg Forse has been actively debating since he was ten years old. He feels he wasted the first nine years of his life. Greg was the head coach of Team Hong Kong from 2008 to 2019, during which he broke every single national record there is for team success and took Hong Kong to never before seen heights. He is the only coach to have taken Hong Kong to an international Grand Final (he's done it twice), has judged the world championship final, and has been lucky enough to work with (and against) many of the legends of the game.
Greg has been working in Hong Kong for longer than almost any other debate coach — with fourteen years in Hong Kong schools and is intimately familiar with the local, international and ESF systems. He has coached many of the major debating school's teams, and has been employed by over thirty schools in the city to help bring debate to new audiences. If you want a debate fanatic with a ton of experience and a love of working with kids, look no further!
Fill out our online form and we'll get back to you as soon as we can to discuss a programme suited for your child.